vienna AUSTRIA 2013

liquid loft studio / july 2013

guest artists

lia haraki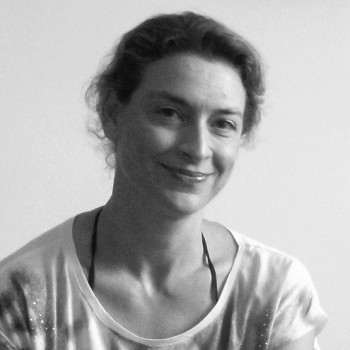 Lia Haraki
is a performing and performance artist based in Limassol Cyprus. She has created 15 works for the stage and alternative spaces in the frame of the creative structure .pelma. Her work has been presented internationally amongst others at the Kalamata International Festival, Julidans Amsterdam, Athens Festival, Royal Festival Hall London, Bozar Belgium. She has been awarded two times the choreography award at the Cyprus dance platform (2003, 2005) and her works were two times short listed by the Aerowaves network (2004, 2009). Her choreographic practices '
Standup PerformDance'
and '
IntuNition
' are taught to performance makers in structures like Dance House Tilburg and Impuls Tanz Vienna. She is a lecturer at the Dance Programme of the University of Nicosia. In 2005 she initiated the birth of Dance House Lemesos. This year she was selected to participate at the Venice Biennale Art exhibition with her solo performance 'Tune In' which has also been presented in festivals all over Europe. She is a selected artist for the EU programme 'Act Your Age'. [
more information
]
mala kline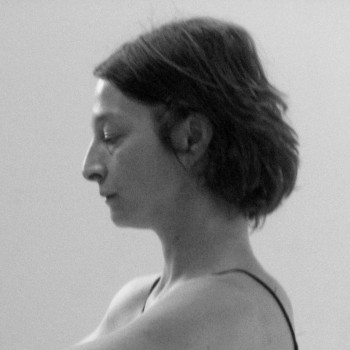 Mala Kline
(SLO/BE) is a performer, choreographer, researcher and writer. She holds BA in philosophy and comparative literature (UL, Ljubljana) and MA in theater (DasArts, Amsterdam). Her own author-based work is embedded in technology of dreaming – creative and performative practice based on the affective and transformative performance of image. She is extensively engaged in different research, educational, publishing and founding activities. She founded EMANAT – institute for affirmation of contemporary dance in Slovenia, SOI Slovenia for dissemination of dream and imagery work throughout EU, and recently DREAMLAB – mobile laboratory for research and development of imagery and dream work as related to performing arts practices. Currently studies with the School of Images (NYC) and is writing PhD on ethics in performing arts at the Department of Philosophy (UL, Ljubljana) and within the framework of a-pass (postmaster program for performing arts in Brussels). She has received major awards on the field of contemporary dance in Slovenia: Golden Bird Award (Zlata ptica), Triton Award (Povodni Moz) and recently Award of Ksenja Hribar for choreography. [
more information
]
notes

lia haraki

day 1

The ceiling reminds me of the ceiling at our village home.
When we first moved in, there were rats living up there.
I am in fear of rats; poisonous, hairy, dirty, foreign
To be in fear as a state makes me closed and isolated
Love makes me open and inclusive
Oshio says fear is the opposite of love not hate
Hate is love standing upside down
…..
Remembering again the freedom of embodying the moment
Drilling and more drilling is heard
I persuaded myself not to be bothered
To be bothered is a decision
The table is weight on my shoulders but I like it
It has something to do with masochism which is the joy and pleasure from suffering
It also has to do with putting ones muscles in use
There is also another pleasure that came up today
The pleasure of smooching!
For how long can one person be kissing another?
If I could kiss forever I would probably choose it
It's really the greatest sensation…..exchanging saliva through the sense of touch
of the lips which are a super sensitive area…and also the tongue because of all those taste buds.
So basically when kissing you are tasting the other
You are eating them alive
and at the same time you allow yourself to be eaten and swallowed.
Let's eat each other up!
I'm stuffed with you!
…..
Lia: How many legs do we have?
Lin: Is that a trick question?
Lia: Yes
Lin: 3
Lia: Correct!
The third leg for men is the peanus because they rely on it often
And for women it must be….I don't know
Their motherly instinct perhaps?
…..
day 2

Thanks so much for your song!
Me standing in the corner, only a few props in space and 3 voices from the audience singing:
'I am sailing, to be near you, to be free!'
There is so much joy in the moment before emotion becomes tear
Is the tear liquid the same as sweat?
To be free
What is to be free?
Maybe is when one is in love with one's self
Meaning in unconditional love
Meaning to accept his/her as whatever is…..
Meaning ultimate love and therefor ultimate freedom
Of course if we had solved that we would not be alive on earth
We would have no issues and so we would be pure light.
…..
I am taking off clothes and putting them in a line
At the end my naked body.
Peeling of layers of myself
Clearing and cleaning up from the weight of my history.
What remains then?
PURE POTENTIAL!!!!
Potential like confusion is a very useful tool in the creative process.
I work with the potential of something happening…
And it is always happening if there is belief…
Jesus never doubted there would be fish for all and that's why there were.
It's the doubt that blocks.
Just like words they can be anchors of blocked meanings or
thresholds of connecting and making much more of what was intended at first.
Words can be so much more than the concept they represent
They are potential written down.
…..
I am so glad I didn't share my dream
The ethics of gods are so different from the ethics of men
I was protected!
…..
Guy's solo made me realize that one needs to be beautiful in order to recognize beauty
As with all things. Things we like are somewhere inside us represented as part of our identity. That's why we can recognize them and that why we usually fall in love with people we resemble
day 3

Bigger sisters
I have a bigger sister and she taught me how to cope
I can tell you all the tips
Tips from bigger sisters are universal anyway
Flying
The best dreams I have are the ones in which I fly.
It is not easy though to fly in my dreams. Its needs a lot of effort and risk.
First I walk, then faster, then I run and finally I jump off something. Something like a cliff or a top of a mountain and then I need to use a lot of muscle power to keep the movement of the arms going in resistance to gravity.
But then when I'm up there, then that's it
I'm suspended
I'm fast
And I can see the whole world
And I am so free
That I get overtaken by my freedom
That is doesn't pass through my mind that it can be lonely up there all alone.
And that's ultimate freedom!
To create from Integrity says Guy
To integrate what is outside you in you and create from that source.
The body as a filter
The body as a vessel
The body as an artery in the body of humanity
Poetry is between two bodies
Compassion
I feel you
I am you for an instance
I step in your body
I come as close as possible and it's the only way to see myself
I see me through you
You break the spell of the haze of ignorance and shine light on me to see.
I see who I am
day 4

Stillness
Silence
Pause
Potential
Possibility
Passage
Passage to the next moment
I am approaching you slowly on four legs
I was terribly attracted to place my body in the space amongst your body and the chair
You left
I didn't get to realize my desire
It would be such a different life
If we let go of expectations
Expectation kills potential!
…..
A cocoon, a whisper, a breath, I am surrounding your breathing with my body,
Protecting your territory with my territory
Like cats that pee to define their territory.
Is there terror in the word territory?
Maybe from the fear of someone taking away the space you inhabited.
To inhabit, to be in the habit of belonging to a space.
'Tell them to come and get my habit or else I'll send a rocket to ruin their space.'
…..
Time fused in the history of the future
Change is the only stable state in our game of creating distances.
Space distance which brings time distance
Which makes proximity seem a playful toy we can juggle with before, now and after.
…..
A recipe that will make you stronger
The act of brain washing.
The brain being washed and mixed in a blender with just the right ingredients
To think in a very particular way.
…..
You were a huge elephant and I loved you so much in that moment
For an instance I wanted to hug you forever.
And just the moment before
You were the most horrific shouter that made me pee on my pants
to create a protective territory around me as cats do, like a big wall.
Like the walls in the ancient Greek city states
I am Helen of Troy in deceiving you
But I am also Penelope forever faithful to my abuser…. shouter…..torturer.
…..
day 5

Temporality
Last week I came to the conclusion that my favourite word is: awareness
To be aware
Awake
Away
Way
This week I have a new favourite
It's: potential
It's like being pregnant and you don't know what you are going to get
and I love being pregnant
and when I give birth I want to be pregnant again
There is so much potential in being pregnant as a state
Not to give birth yet but the potential of that happening at some point, thrills me
It's like going from infinite possibility to particularity
from fiction to fact
from imagination to realism
from a place of travelling to arriving
Also I used to like the word 'choice'
but nowadays I find it loaded with responsibility and it's a bit too heavy
there is so much weight in yes or no
I tend to like 'maybe'
It opens up that grey area between white and black
Or that pink between red and white
Or that green between yellow and bleu
Green is by far my favourite colour
And my favourite name must be…….
Until it's not anymore
And until I am not anymore
And there is potential again
Lia Haraki 26.7.2013
notes

mala kline

rewriting distance (22-26/7/2013)
22/7/2013

space
light is pouring
a cornered body
drilling
mirror breaks the space
extended blackness of a chimney tube
more drilling
a violent opening of the body
light pouring into it
expanding
suddenly
all things wear a feeling of breath
as gaze touches them
silence
but for a moment
bodies of things and people
intensify their presence
then more drilling
more opening
mirror speaks back
speaker speaks back
marks witness
all rises out of its muteness
in rest God moves through
a hair's breath
more drilling
lay upon me
resting
moving through me
like breath
22/7/2013

rewriting distance I
explain love
in a word in a letter
letter for love
love letter
licked
tongue licking a love letter to exhaustion
the exhausted whiteness of paper of a letter
love speaks in tongues
licking and kissing
feed me with love
bird kiss vs. wolf kiss wins
for bird kiss is resistance and surrender
at once
just like love
and
there's always someone leaving
leaving a letter leaving love
and there's always love underneath the letter
and the voice inside the letters
and letters licked to exhaustion
and a letter licked with blood
for u only
I worry
did u receive the letter
how did u receive the letter
did it reach u at all
the letter
I licked
the whiteness
the letters
for u
my blood
I need tones of power
to keep the whiteness of love upright
power inhuman
extended
just a little bit
I lick
with blood
persevering
I stare at the whiteness
until it looks back at me
I make three steps back
then I jump
23/7/2013

Guy's dream
what more could I say about the space between
the two
the colors
bodies of people and things
in is out
out is in
one is flowing into the other
in the midst of chaos
I am captured by moments of grace
for a moment
all falls into place
and I know
what is it
to bring the power of two in the world
and share it with all
my home is being on the way
is constructive use of freedom
while patching
aligning the spaces in between
moving through
never fixing
never turning back
my way are stitches
and intersections
where roads meet
without anchoring
winds blow
with possible futures and possible pasts
while standing next to u
standing
in the eye of the storm
24/7/2013

rewriting distance III
drawing of a tree
a tree of life
Benjamin after Klee
an angel
an angel of history
standing at the top of debris
rewriting history
in the present
painting
with touch
measuring proximity and distance
measuring poetry
between bodies
times
and
spaces
we inhabit
rewriting them
again and again
blindly
for others to see
until their seeing illuminates the blindness
of matter touched and
cause it to utter, pronounce and deliver a shape
a form rewritten through their seeing
again
a deliverance
birthing through touch
touching blindly
bridging
bonding
making the distance collapse
into an infinitesimal point
an extension begins
into space
into time
into a body
of form
with the breath of a color
yet unseen
while it touches me
caresses me
and teaches me
how to cuddle
how to cuddle
in color
25/7/2013

Lin's dream
imagine
flying saucers or rockets
taking off and landing
or crashing
right underneath your window sill
stardust lays upon debris
you stare amazed
you say it's something about the change
and verticality
yet the party goes on
in the house
you stare amazed
over the event unnoticed
a rapture not witnessed
in rest a child is born
you know why this child is called
a comforter
I'm angry
you complain
to the stars
I've had enough of waiting
you say
I need you
to be ready
to see me
I need you
to receive me
and you fly upon a distant star
to be closer to all
to rewrite
this distance
25/7/2013

rewriting distance VI
waiting to see
watching
listening
just being there
seeing before doing
seeing what is there
unfolding
receiving before giving
before reaching
before moving on
being
before all necessities
being
for all to lean towards me
red ball
animal fur
roles of whiteness
table
chairs
stand
either waiting readily until the space
or my perception of it shifts and
a little opening occurs
through which an invitation arises
to enter among the things being there
resting in their suchness
or entering and letting the body do
trusting its direction color mood and movement
not either or
what is a relation without either or
when both are there simultaneously
not a controlled choice
of words
words too big to carry or absorb
words like shells
words like turtle houses
and the being
looking for a way out into the open
into the space between words
flow not captured by words
if not either or
then perhaps a relation
without fixity
but a relation of practicing
of coming together
and being one
and separating splitting or falling apart
practicing
elasticity
flexibility
of relation
of listening and doing at once
perhaps wuwei
action through non-action
nothing to capture
just moments of lucidity
of comprehension
only gestures
of inflexing revelation
mala kline 2013
notes

guy cools

Rewriting Distance, Vienna, July 2013
With Lia Haraki and Mala Kline
monday july 22nd, 2013

(Miranda's exercise)
I wouldn't have known what this little door meant, if we hadn't had a chimney sweeper in our apartment earlier this month. It looks like a vault or a safety box. I like the rusty metal and the sounds it makes when you open or close it. The second hidden door is even more screeching. Inside the darkness is complete, very different from the hole I looked through in Berlin, which after some time started revealing a whole landscape: a street with a lamppost. But here I like how the darkness enwraps my arm and how to my surprise my whole arm disappears in it until I touch some soft surface on the other side of it.
I have memories of the chimneys we had at home. The excitement of getting on the roof, more than ten meters above street level. We had to put up a ladder on the kitchen sink to get through a trap door in the ceiling. And at the other extreme of the house, there was this huge cellar in which people used to live during the World War II and me and my brother would play soccer in it. There were many little rooms: one with a grill which was built as a wine cellar but which my aunts used to store the coal. They still had an old fashioned stove with coal in their front room which they would only open if they had important visitors, like the parish priest or their lawyer. The metal doors of that stove remind me of this door.
(After the practice)
While doing Miranda's exercise and looking at the traces on the wall, I was curious and questioning how these very different traces ended up there. I should by now, know better and not ask questions, I don't want to know the answer to.
I wanted to lick the space, to seal it and send it to you as a love letter, inspired by Mala's touching song and I was stubborn and neglected the signs the space was sending – a glass of water falling or me tipping over a cable – so Lin had to save me once more, replacing the white of the wall with the white of the paper and revealing all the possible letters sent and my tongue bleeding.
Stare into the vastness of the empty white. Make a step backwards and jump.
Sitting on the coach you see all the potential, all the spatial pregnancies that Lin and Lia were activating with their sounds. The drilling.
Maybe I have to practice more to listen to your breathing before I enter.
Oh no, this has too much sexual connotations.
What I mean is, maybe I ' ll have to let the space breath before I enter so that the ceiling can also be a floor and Lia pushing the legs of the table against the wall is actually flying from Lin's perspective, lying on the floor.
I am sorry if I smooched and left my liquids all over you.
Oh no … not again!
What I meant is, your white is full of pregnant potential and I want to enter it, gently creating rhythms, cuddling your song.
Nai & oxi.
(A discussion of the nature of the writing)
Lin: How far can we get from a physical point in order to write? How close can we get to a physical point to write? Writing in the performance space is more like drawing.
Mala: Let the writing write. Work with resonances of the somatic experience.
tuesday july 23rd, 2013

(My dream which we open with Mala's cabbalistic dream opening procedures)
We – Stephanie and me – have bought a beautiful sailing boat and we are sailing under the German flag. In fact, there are two identical flags. It is gorgeous, sunny weather and we are complimenting ourselves on our newly acquired sailing skills and how smooth the journey has been until now.
We are sailing in the streets of a city, through the traffic, turning at crossroads, stopping before traffic lights. We are sailing the whole time uphill and looking for a place to sleep.
I have a vivid memory of the sound the rudder makes when scratching the tarmac.
We are sailing through a baroque church, looking for a different exit, then the one we came through.
It looks like a city we visited before.
(Some collective writing during the practice on a small white canvas)
I am sailing. I am sailing.
The Flag. Putting pieces of the puzzle together. I am: RED as passion & YELLOW as sun & BLACK as a root. TO BRING THE POWER OF TWO IN THE WORLD AND SHARE IT WITH OTHERS.
GREEN: eco, XXI, heart-chakra, meadow, freedom, spit, jealousy, praying mantis, ACID green.
(After the practice)
How to reverse in order to move forward? How to break the patterns fixed by our habits and fossilized in how we organize our spaces? How to find our freedom and still be attached to the power of two, which is the root and the anchor? How to allow the colours to change constantly? How to stay 'wetterfuhlich'? How to pray with all the senses open to the world out there?
Today felt as an immense gift, creating together a painting of us sailing.
We need the water for stability. The earth to anchor ourselves from time to time. But most of all, we need the wind to continuously move forwards, uphill.
And we can't navigate the boat alone. We need at least the two of us being four and the red of passion, the yellow of light, the black of the root and the blue of the sky as the natural background to the flag. And occasionally we also need some green, either to swallow or to spit, since green always takes care of itself.
"We are sailing. We are sailing. From the heavens to our port.
We are sailing. We are sailing. From our bodies to our (h)ear(th)s.
We are sailing. We are sailing. Through the colours to the light.
We are sailing. We are sailing. From rebirth to rebirth.
We are sailing. We are sailing. Tuning in and in tune.
We are sailing. We are sailing. Through all weathers to the sun.
We are sailing. We are sailing. Through our tears towards some fun."
wednesday, july 24th, 2013

(after the practice)
It started with Lin making a drawing with her left hand telling the story of how she discovered she is a left hand percussionist.
Later Lia made a drawing to Mala's story, using the technique of practicing signatures and in that drawing were hidden many words and also a lot of birds.
We all have the desire to levitate like me when as a child, I was walking in the air from one side of my grandparent's garage to the other. In my memory it wasn't a dream. It was very real. And if I did it once, I should be able to do it again.
We are all clumsy. Spilling coca cola or bumping into chairs. But we can also all write poetry which are movements between bodies. We can all learn to draw or play percussion like the blind or the deaf, just tuning in with our touch, which is our first sense. So it is important to learn to cuddle from a very young age or at any age.
To be a lucid dreamer and practice future movements with the body next to you, that you invited into your dream.
The glass of water was there on the floor all through the practice and nobody kicked it over.
I didn't know why I put a second chair at the table, but then we 'met' and that word was also hidden in Lia's calligraphic rebus.
To meet. To be met. In Flemish 'met' means 'with'.
thursday, july 25th, 2013

(after the first practice)
Today we start the practice with Lin writing, reading and telling us her dream.
It is a dream-movie of verticality. About sky rockets and falling stars with us being its silent witnesses.
Our body is a solar system and we are always moving in between planets even if there is one we call home: (h)eart(h).
I created a warm rain for Mala's outstretched body which later Lia turned into another cuddle: mother and daughter being together or breaking out of their cocoon.
Mala asked me to write a letter to the stars (at least that was my interpretation) saying that it is time. That she is ready and doesn't want to wait any longer and that they please should respond to her messages.
Some dreams are of a higher order. We dream them not to correct our own past, but to develop a collective consciousness of the journey we are on as a species.
In the aftermath, I still have a question for Lin. What happened to Sheila? Is she still in the room with you?
Afterthought: 'Lin' in Chinese means to approach.
(after the second practice)
Stories about magic potions that make you grow; about magic porridge recipes that make you stronger.
I imagined I was a magician. I tried a couple of magic hand tricks: to make things disappear and reappear.
There was also some great musical comedy with an all female chorus making funny sounds and funny faces and strange moves up and underneath each other.
That is when I went it again not knowing, only wanting to join and the texture of the chair loosened and draped itself around me as a new skin, both shield and shell and I became a tortoise and Lia a sexy turtle with a soft belly and an outside skeleton.
Later we changed skin a couple of more times and there was the risk of losing one's identity in the process of doing so, but luckily the people witnessing from outside recognized the elephant in me and I trumpeted my version of the song in the rice paper:
"I say a little prayer for you and hope you will join me soon."
So you danced for me, the circles and the fluidity of your first dances after Mala read your face – not being good at maths, but understanding the writing – its search for complementarity: the soft circle and the straight line.
"Why don't you stay, just a little bit longer?
Why don't you play, just a little bit more."
friday, july 26th 2013

It is the last day of our two year long research period which started exactly two years ago in July with Miranda Tufnell in Charlbury. We practice one more time before an audience of invited friends and afterwards there is a deep feeling of satisfaction of where this journey brought Lin and me and all the people that joined in. We feel we are ready to bring the practice in front of other audiences and in the final discussion we discuss the possible conditions how to do this best.
To be continued. From summer 2014 onwards.
guy cools 2013
notes

lin snelling

Vienna
day one

We begin with Miranda's exploration of space; something we often do.
I notice the light from the open doorway of the studio … it leads onto a patio
that has a ceiling with hanging vines … the sun is splashing through these vines leaving spots of light on the doorframe and studio entrance.
spots of light …
fashion on the floor …
walking through these lights
pathways out of the studio
towards another country
a paused disco ball comes to mind,
as I look at the specs of light everywhere …
coming through these
old vines, it has given
the old red door some spark …
I walked through this doorway way with my notebook …
and the spots of light appear on the page
as I stand between these two worlds of inside/outside
it's a pathway of spacious lighting … rocking me gently
through in and through out …
after the practice
length
the roundness of silence
the way it began on paper with lines …
and circles on the body …
sending a letter, the letter A
for antlers
the letter B
for breasts
the song in the space
your voice and its timbre
shinning,
the way listening to how one story
of kissing like a bird,
or
like a wolf … and
licking the letters
of love,
of marriage
sending them into this room
as my hand is outlined with the life another
and this drawing …
flew me into the space
pregnant with invisible joy
curving into another
island of paper
this voice underneath its bland and open offering
as we became another kind of letter
writing itself with words out loud
and a voice telling the licking story …
the tongue draws a face until …
a gap
a pause
then
another flight from the wall
singing a remembered song
going on and on and on,
the table moves and the sounds of smooching
and
argh argh argh
spilling sculptures into strange and wonderful monuments
to love
to leaving
to the great lengths of
variation repeat rhythm
variation repeat rhythm
variation repeat rhythm
(In the space I found this letter…)
stare into blinding whiteness
until it looks back at U
Make one step back
then jump
Mala said after the practice she likes
"when the writing starts to write"
poem written later on in the evening
a word is the shaping of
public and private,
it is how we meet,
this/these together, apart,
alone, in a group…
they are me meeting you,
they move me to write,
they shape me towards
language,
it comes from all over …
it is an attempt to get closer to you
I alone towards you ( word )
the page is a passageway
it is what's between us.
day two

As I walk to the studio a phrase stays with me …
"learning to care at the appropriate moment"
We begin with Lia's tuning score … then we perform 5 minutes of the score for each other …
I with Mala
and Guy with Lia,
We talk a bit afterwards …
then we do the Dream Opening work with Mala …
we work with opening Guy's dream
written after the practice
The clues are the room itself
…the clothing in a line
…the dress on the music stand
…the chair on its back
…the table on its side
…the paper frozen in action
…water turned to ice
…or perhaps it is the flag caught in flight.
a single second, an ending, the room captures it, how we are all made of exit,
Guy the last to leave …
holding the painting with
the poem
the calligraphy
the green things
the solution
he was turning it in the air
it looked at one point
as if it was floating in water
being carried by the
currency of memory …
the story, a song, an anchor, a free ride
a sighing
a trying
a crying
the birds are kissing underneath
the picnic table outside
they are excited by our voyage
they remind me of where the door is
and how desire can open it
how many times
there were no clear answers inside this world
I waited, rested with, hoped for, died with, let go of, and watched from …
created the passage way
a walking through with words
and the life
they maintain on a page
the white surface like water
the words appearing with
their meanings like boats
tugboats
sailboats
ocean liners
kayaks
canoes
rowboats
all making journeys
appearing to float into sentence structures
utterances
poems that sail
novels that anchor
day three

A small long mark on paper
a crease from a pen
becomes a crevice,
and so I put my left hand through the paper,
this side is so alive
it is the/my underneath side
this begins as does the telling
the talking towards a
rhythm …
a song.
into the histories of gently falling
of wildly flying
of footsteps that release up
underneath the domes of feet
taking into air
briefly …
how walking into a story of a drawing …
and blindly
to cuddle shape from colour
the games of childhood reminding us to play …
again and again and again
the take off
the willfulness of flight
the exertion of getting free
"gravity is love"
she has appeared again …measuring this point to that point
the numerous ways of setting
the lines free
letting the sails in and out
magical rigging
appearing for the journey.
What is measure?
What is proof?
Where is the left hand, right hand,
all hands on deck …
the story
the page
the words
the players
the space
the sound
the timing of it all …
tells the listening.
day four

We decide to open my dream inside the Rewriting Distance Practice
the mystery of meaning (s)
the unfolding of the body
towards … approach
to approach …
this is the mystery of naming …
( I was on a boat … between two bodies of land … I was reading your letter of thanks: my dear friend Gordon (who I have not thought of is such a long while) You addressed the letter " dear Lin" … instantly I discover my name.)
As you slowly approach the table
I remember you slowly approaching the table
As you danced away from me
I remember you dancing away from me
As you sat writing down her reply
I remember writing down her reply
As you wrapped her up
I remember being wrapped up
As you stood and said I am angry
I remember being angry
As you stood waiting
I remembered waiting …
as you
as I
as we
gather around a dream
inhabit its flights and forces of many directions
there is a dynamic
to the grace,
it is sobering and these sensorial calculations
mesmerize
….watching you speak through the planets, offering an orbit of change
and opening
these eyes
to a remarkable beauty …
this is not debris …
this is something else
I have forgotten the word remembering the mystery.
afternoon practice
Lia's says something and I write it down
" from a nearer distance"
and so it begins,
Guy becomes an elephant
Lia is a storm
the rains have increased
together
Lia and I play our lips
into the space
sounds of flipping lips, very fast …
Guy terrifies Lia
as she and he
approach each other
meet in the scream
she then sets some
circles into the space
"you can only scream there"
I find a hat, and remember a dance,
as Mala reads my face
that is a drawing
an aftermath
from another time
both of us prefer words to numbers
and after math …
there was English …
"my straight line curves
your circle breaks"
this was/is the name of a first romantic dance
remember the heart
( there was piano music)
reinventing the dance
it becomes cliché
so now were are we ?
singing a song …
yawning on and on
"say a little prayer for you"
she sings on and on and on
the space and the skin of stories
always shedding and calling out
screaming and creating some endings, some beginnings
the trails are left in the room
we spend bit of time at the end
looking and listening to these remnants …
Afterthoughts from Vienna …. a new beginning
"the dream is there before us …"this is something Mala said
… as I reflect upon this is occurs to me while walking down the street that each one of us has a way we perceive inside rewriting distance .. as we practice more we are able to shift into more places, in fact, we are perceiving the layers, and they are more ready in our bodies to be shaped … this is the practice … learning to be in flow and be with more than one thing at a time and hearing the beats of your awareness, and allowing the ones your body is ready for to be shaped and spoken and sung and made whole in the space with all the other parts …
piecing together a new flow each time … it is like dream time … various dreams with collage and image and the largest spaces imaginable in between that zoom in and out as the perspective of the storytellers retells the timing … reshapes the story … gathering and discarding … creating and destroying … the debris oftentimes the most telling … the most graceful in how it gets overlooked, how it stays there overlooked, until you put words towards its explanation, you notice the remnant that is so recognizable as what I see in you, and you in me, we are together in a flow that breaks and captures a new timing … a currency of flow … something we can put our hands out to like water flowing, we cannot stop it, but we feel its tides, through gravity it pushes on our skin and gives rise to sensation and a release of fluids that tell a tale.
lin snelling 2013
Comments Off

on vienna AUSTRIA 2013