lin snelling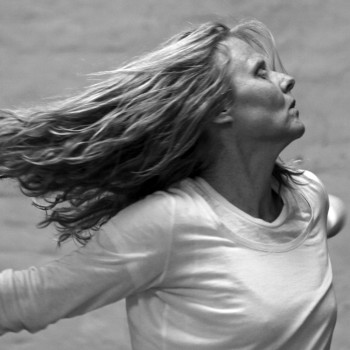 Lin Snelling has toured the world extensively as performer with Carbone 14 (1989-2001). As choreographer, performer and teacher, she continues to investigate, perform and teach improvisation, both as a tool for creating choreographic material and a way to keep performances alive and present – which has cultivated an exploration into bodywork in relation to dance and the spoken, sung and written word. She creates works, and collaborates with choreographers and directors, throughout Canada and Europe; most recently in Ireland, London UK, Berlin, Cyprus, Athens, Vienna, Edmonton, Toronto and Montreal with Rewriting Distance; a collaboration with the dance dramaturge Guy Cools. (www.rewritingdistance.com) Lin is presently teaching dance, improvisation and experiential anatomy to actors in the Drama Faculty at the University of Alberta, living in Edmonton and Montreal and deciphering dialogues between these two cities and artistic communities. Her recent dance collaborations are Duplex with Gerry Morita and Loop Thing with musician composer Michael Reinhart and Performing Book with Shelagh Keeley. She works often with Montreal choreographer Tedi Tafel and was part of Life World and Calendar and Everyday.
career history
Lin Snelling is an acclaimed dancer, performing
 artist, teacher, improviser and choreographer who has performed across North and South America, Europe and the Middle East, and makes her home in both Montréal and Edmonton.  She has performed her own and other works at International Festivals including the Kalamata Dance Festival in Kalamata, Théâtre de la Ville in Paris, the Body Walk Festival in Bruges, Vooruit Danse en Avant in Antwerp/Montreal, BAM in Brooklyn, New York and others in Italy, Switzerland, Germany, Netherlands, Brazil, the United Kingdom, Mexico, Denmark, Finland and Cyprus.
Lin was a performer with Carbone 14/and Gilles Maheu from 1989-2002 and was involved in national and international touring with Silences et Cris, Les Âmes Mortes, L'Hiver/Winterland, Le Café des Aveugles, La Fôret, Vingt Ans, and the seminal dance/theatre work Le Dortoir. The film version of Le Dortoir directed by Francois Girard won an Emmy for best film in the performing arts category in 1991. Le Dortoir toured for four years receiving national and international awards and attracting dance/theatre audiences worldwide.  Over 100,000 people in 18 countries and over four continents have seen the theatrical production of Le Dortoir.
As a
 choreographer, an interest in multidisciplinary art and re-invention fuel her research and performance direction and she has created over 25 dances; such as Woman asLandscape (1999) and Circle (2002) with collaborators Michael Reinhart and Josée Gagnon, Words Will Be Spoken/Echo with Hetty King (2000) and IAMMYOWNRAIN (2001) with Chantal Lamirande and Quell (2010) with Peter Bingham, Peggy Lee, and James Proudfoot.  In addition, she has worked with choreographers and directors in Toronto, Montreal, Vancouver and Europe.  In the spring of 2003 she shared the stage at L'Agora de la Danse with Andrew Harwood and Alexander Baervoets, in Blind, a Baervoets creation and part of the event Vooruit Danse en avant.  She also performed in Baervoets creation Wachet auf, in October 2007 in Antwerp, Belgium.  Limbes/Limbo a collaboration with Nathalie Claude / Momentum, and extinction, a collaboration with Michael Reinhart, were performed in 2004 at Usine C in Montréal.  Her on-going performance/teaching collaboration with Guy Cools, called Repeating Distance, has travelled to Austria, Athens, Belgium, Cyprus, Montreal, Holland, Dublin, Nanaimo, Toronto, and the UK. Her dance and music collaboration called loop thing with Michael Reinhart was part of Calgary's Fluid Festival in October 2009. In July 2010, Lin completed The Room Residency, a series of performances including 10 artists of diverse disciplines that took place in Vancouver at EDAM and the Western Front; and is a culmination of research into issues of composition and improvisation in dance, visual art, music and theatre. Performing Book was produced in September 2011 at the Art Gallery of Alberta for the Brian Webb Dance Season.  Her collaborations with Edmonton's Theatre community have included three productions with The Maggie Tree, Wishbone Theatre's production of Bashir Lahzar directed by Piet Defraeye and two productions with L'Uni Théâtre.
In addition to choreographing and performing, Lin has been 
teaching dance and voice improvisation to performing artists for four years at the University of Alberta and for over fifteen years before that at the National Theatre School (2006/07) and at various local, national, and international workshops where she has been invited, including ImpulsTanz in Vienna, Choreodrome at The Place, in London UK, and at the Centre for Performance Research (CPR) in Aberystwyth, Wales. She graduated from the School of Toronto Dance Theatre Professional Training program in 1984, received a BA in Journalism from Ryerson University in 1981, and spent a year on scholarship at York University in Interdisciplinary Studies in 1978.
Lin 
joined the Faculty of Arts at the University of Alberta, in the Drama Department as an Assistant Professor in the BFA Acting Program in July of 2008. She served this past year as Coordinator of the new MFA in Theatre Practice and is presently supervising Gerry Morita on her MFA Thesis and acting as a Co-Supervisor for Michele Brown who is also an MFA in Theatre practice graduate student. As a teacher in the BFA Acting program Lin teaches in all three years of the Acting Program that includes physical training in Contemporary Technique, Repertory, Dance Aesthetics, Composition, Improvisation in Performance, and Interdisciplinary Collaboration.  She has received grants for her research and performance work from the Killam Special Opportunities Grant, the Social Science and Humanities Research Council, the Canada Council for the Arts, the Conseil des arts et des lettres du Québec, SAS, the President's Fund and the Ontario Arts Council.  Her newest research investigates Writing and Dancing both on stage and for written and virtual medias.
curriculum vitae